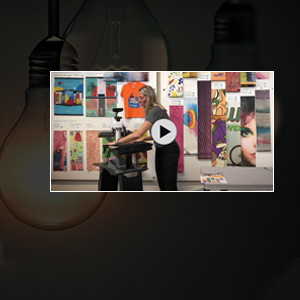 Briteline's G-Flex TURBO; the fastest HTV press time on the market!
Come see how Briteline's TURBO 700 series can easily fit into your production flow!
Jun 27, 2019
By: Courtney
TURBO's variable hot melt allows you to tailor installation to fit your work flow, plus, its compatibility with a wide assortment of garments will minimize your need for expensive specialty products. The sleek matte finish and soft stretch makes TURBO extremely comfortable to ware!
In this video we demonstrate the TURBO 700 series being applied to a cotton T-shirt. The same install perimeters apply when working with polyesters.
Under medium pressure it can be applied at 265°F for 5 seconds, 300°F for 4 seconds or 320°F for 3 seconds. When working with heat sensitive materials such as leather, pleather and spandex, application at 265°F for 5 seconds is recommended.
Turbo can be peeled hot, warm or cold so your assembly process should never be stunted.
Due to the high heat sensitivity of nylon, there are a few additional steps to take when working with this style garment. With low pressure, pre-press the garment for 5 seconds at 300°F. Allow the garment to cool then apply graphic for 5 seconds and remove the liner warm. Allow garment to cool, cover with silicon paper and apply heat for 10 more seconds.
Tip: A video on nylon applications will be launching soon, so be sure to come back and check it out!
Tip: Cut image in reverse on hot melt side.