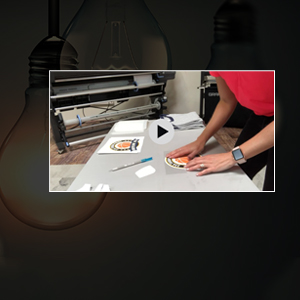 Want to learn about the print and cut process of Briteline's TURBO Print 236?
In this video we will walk you through set up to completed garment!
Jun 19, 2019
By: Courtney
TURBO Print 236 is a digital matte HTV that's compatible with solvent, eco-solvent and latex inks. It can be applied to a wide selection of garments- from cotton and polyester to leather and nylon.
For HP latex printers you can download your profile directly form the TURBO Print 236 product page.
When working with a solvent or eco-solvent printer, we recommend using a generic matte adhesive vinyl profile and letting the material outgas per your printer manufacture's recommended time prior to plotting and install. Traditionally that's 24 hours.
TURBO Print 236 has an adhesive backed liner that's ideal when you are not pressing right away or weeding intricate designs. Transfer from liner to tape is made simple with Briteline's 854 medium tack transfer tape.
Installation with TURBO Print 236 can be adjusted to fit your workflow and garment.
Under medium pressure it can be applied to cotton and polyester at 265°F for 5 seconds, 300°F for 4 seconds or 320°F for 3 seconds. When working with heat sensitive materials such as sublimated polyester, leather, pleather and spandex, application at 265°F for 5 seconds is recommended
The 854 transfer tape should be peeled warm, about 15-20 seconds after your press.
°For materials with any type of coating please be sure to test for stability.
Due to the high heat sensitivity of nylon there are a few additional steps to take when working with this style garment. With low pressure, pre-press garment for 5 seconds at 300°F. Allow the garment to cool then apply graphic for 5 seconds and remove the 854 transfer tape warm. Allow garment to cool, cover with silicon paper and apply heat for 10 more seconds.
Tip: When working with nylon always protect garment by covering with silicone paper.
TURBO Print 236 roll Sizes:
15"x 5, 10 and 30 yards
20" x 5, 10 and 30 yards
30" x 30 yards
60" x 30 yards
854 Transfer Tape rolls sizes:
15" x 5, 10 and 30 yards
20" x 5, 11 and 30 yards
30" x 30 yards
60" x 30 yards